Silk button down shirts are stylish, comfortable, luxurious, and are versatile enough to be paired with a variety of different outfits. Silk button downs can be worn tucked in with a suit or blazer, and they can also be worn untucked with a pair of black skinny jeans or vacation shorts. This article has 6 different outfit ideas that you can use to pair with your silk button down shirt.
This is How to Wear a Silk Shirt (Men's Guide)
There are not many garments that can match the level of comfort and style that a 100% silk button down shirt can provide.
Silk button downs are soft, smooth, breathable, lightweight, glossy, elegant, stylish, and unique. Silk dress shirts are more versatile than you may realize, and can be worn with a variety of different outfit pairings.
Below we present you with 6 different outfits dressed around a silk button down shirt. These outfits can be worn everywhere from the boardroom to the beach, so find your favorite style, and have some fun making an outfit around your silk button down shirt.
Contents: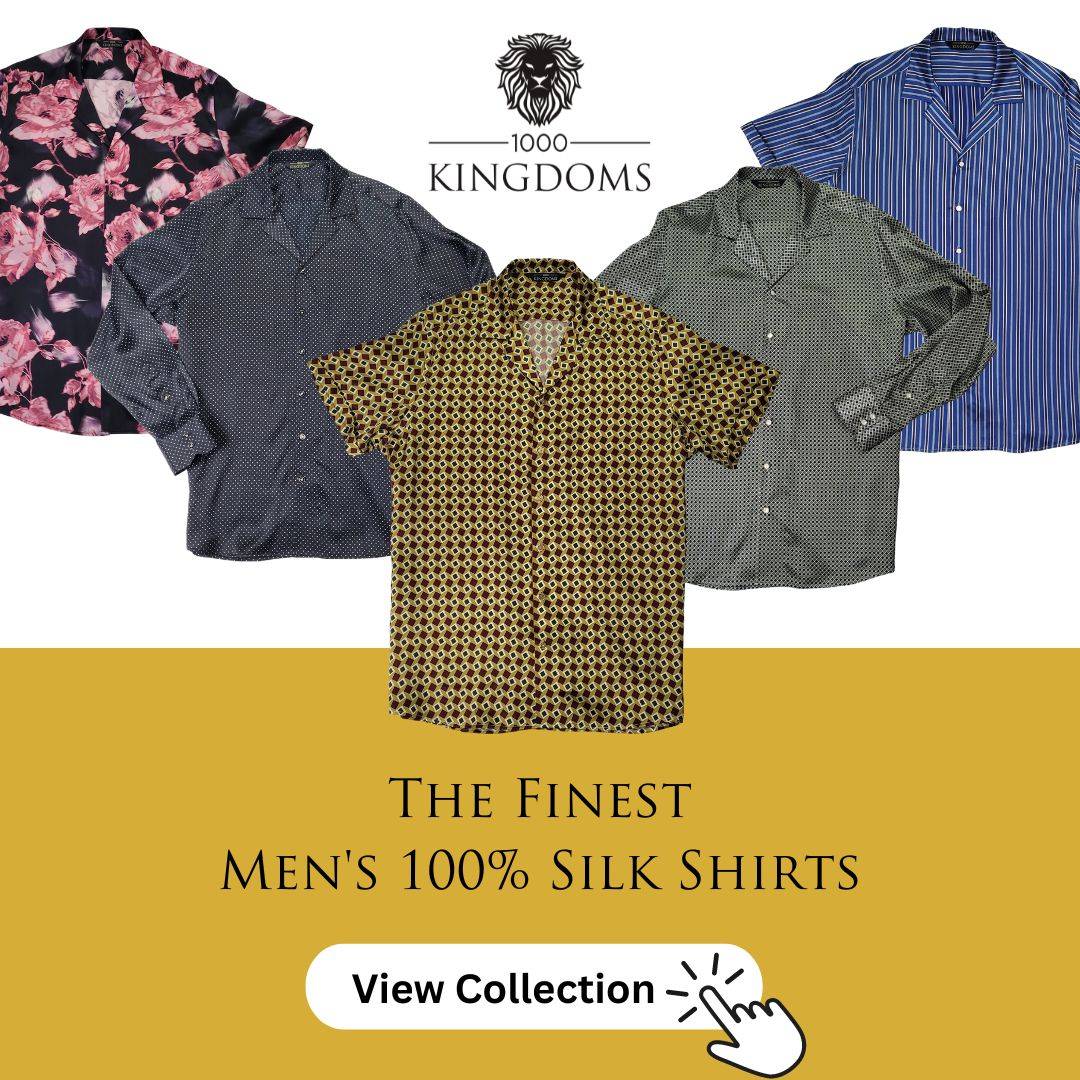 How to Wear a Silk Button Down Shirt
Use these 6 outfit ideas to dress up your silk button down, so that you can look amazing no matter what type of setting you are in.
If you are looking for a new silk shirt, check out our collection of premium 100% silk button down dress shirts for men.
Silk shirts are precious, and they also have very specific care needs. Before attempting to wash, iron, or remove stains from your silk shirt, please refer to our care guides to make sure that you are following the right procedures:
1. Silk Button Down and a Blazer
Silk button downs are a great match to wear with blazers to achieve a stylish business casual look. It's always good to pair a light colored blazer with a dark silk shirt, and vice versa. In this picture we paired a light pink cotton blazer with a sheen black silk button down shirt, together with black suit pants and black dress shoes, tied together with a white pocket square.
This is an outfit that you can mix and match colors with, however if you are looking for other outfit ideas to wear with a black button down, take a look at our Guide on How to Wear a Black Silk Shirt.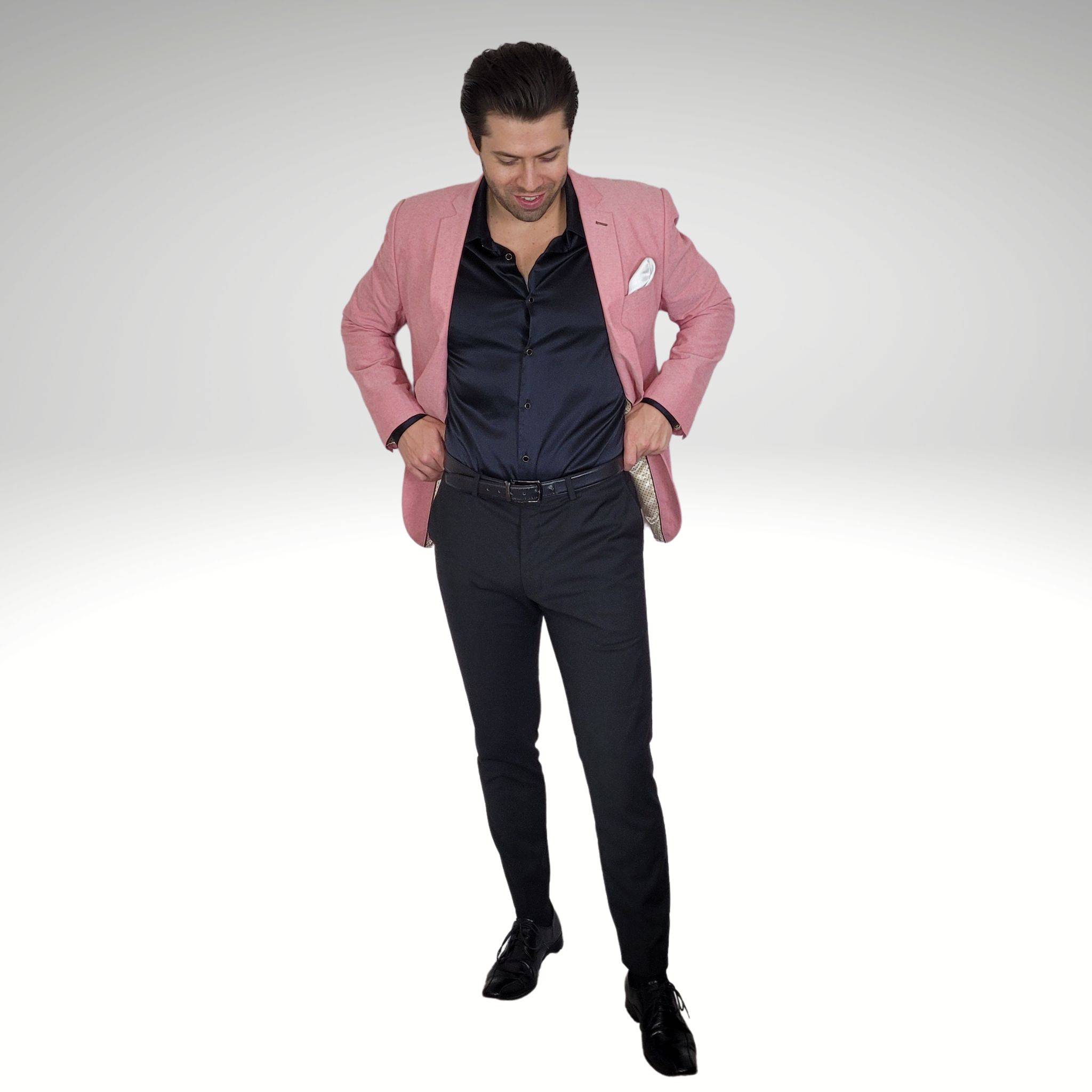 Wearing a silk button down with a nice tailored suit is a great way to look serious and fun at the same time. We paired his navy blue suit is paired with a black silk shirt, which makes for a stylish and modern combination. If you are somebody who prefers to wear black suits, trying pairing it with a brown, purple, or blue silk shirt. It is best to stick with solid color silk shirts when creating a formal outfit, as patterned and multicolored button downs have more of a casual vibe.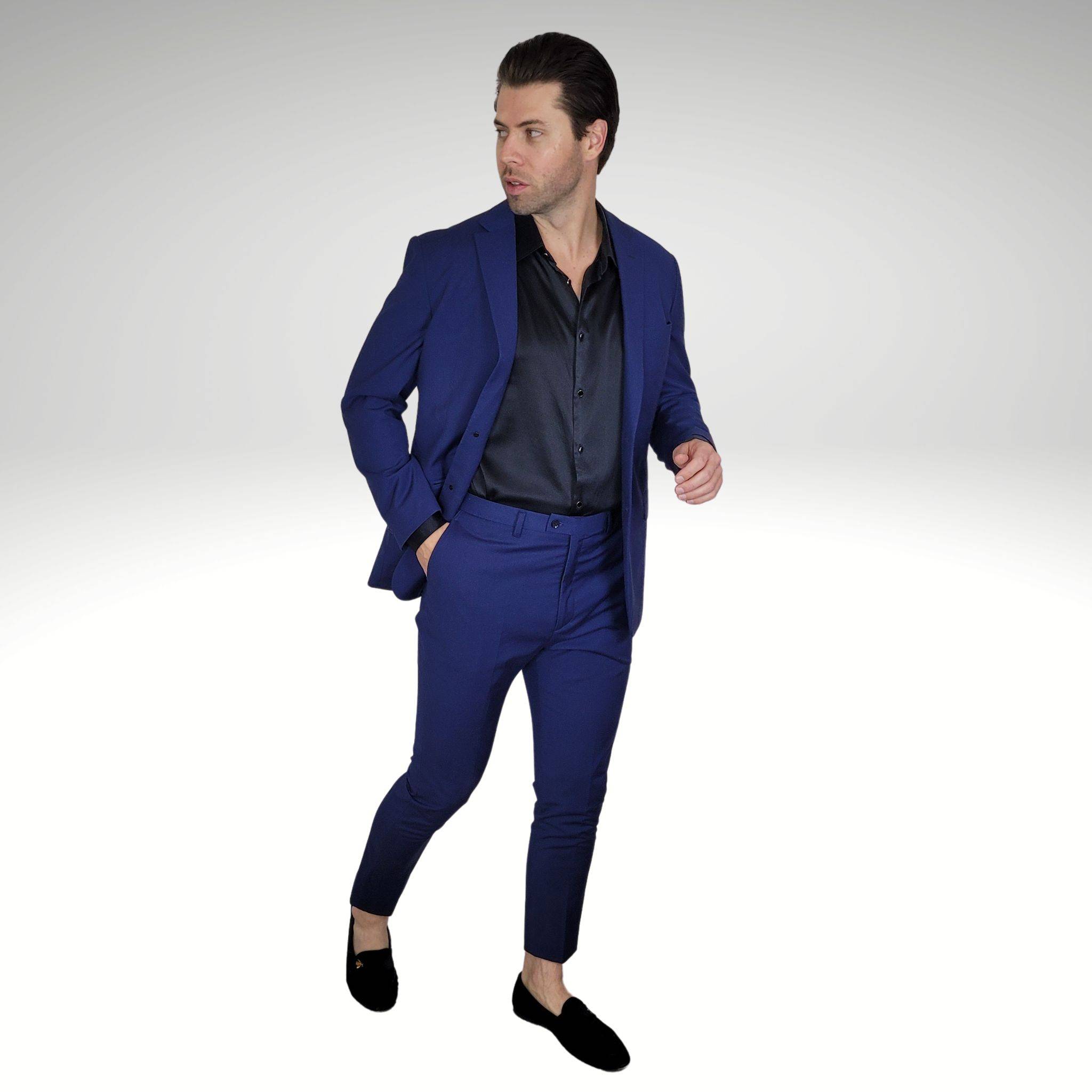 3. Untucked Button Down With Black Jeans
If you are looking for a more casual vibe with your button down silk shirt, try pairing it with a pair of black skinny jeans. Black jeans are incredibly versatile and can be worn with almost anything. This outfit consists of our blue 100% silk button down shirt, black skinny jeans, and black suede shoes.
This outfit can be worn on a date, to dinner with friends, on a night out, or simply while running errands around town.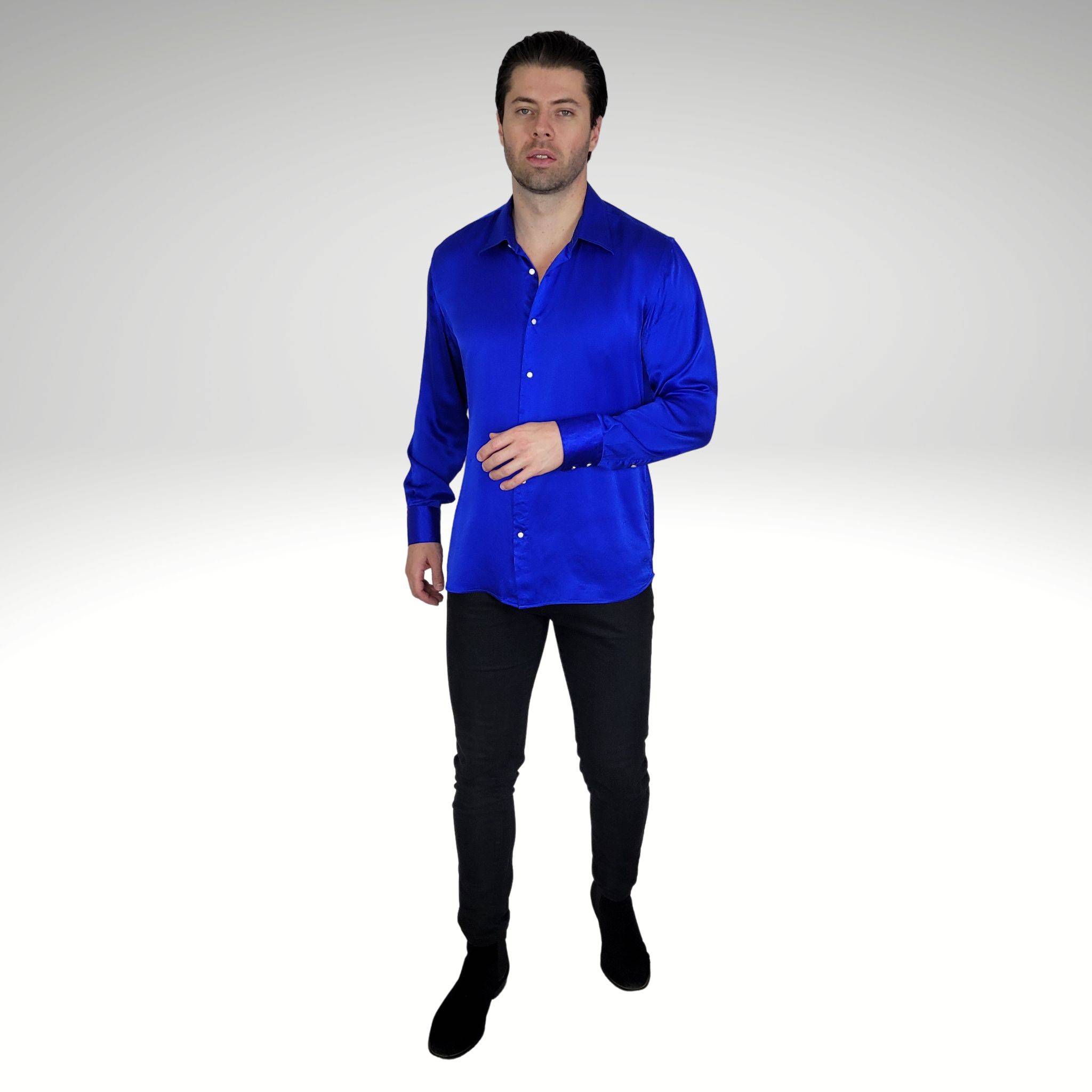 If you are looking for a breezy outfit to wear on your upcoming exotic vacation, consider pairing a silk button down with a pair of fitted shorts and sandals. This outfit will help to keep you cool in the heat, while also looking stylish and accomplished.
Wearing white pants with a silk button down shirt is a great way to turn heads at any event. This is a clean, upscale, high fashion outfit, that is sure to get some compliments.
In this outfit we paired one of our blue silk button down shirts, with white high rise suit pants, and blue velvet loafers. A vibrant look indeed.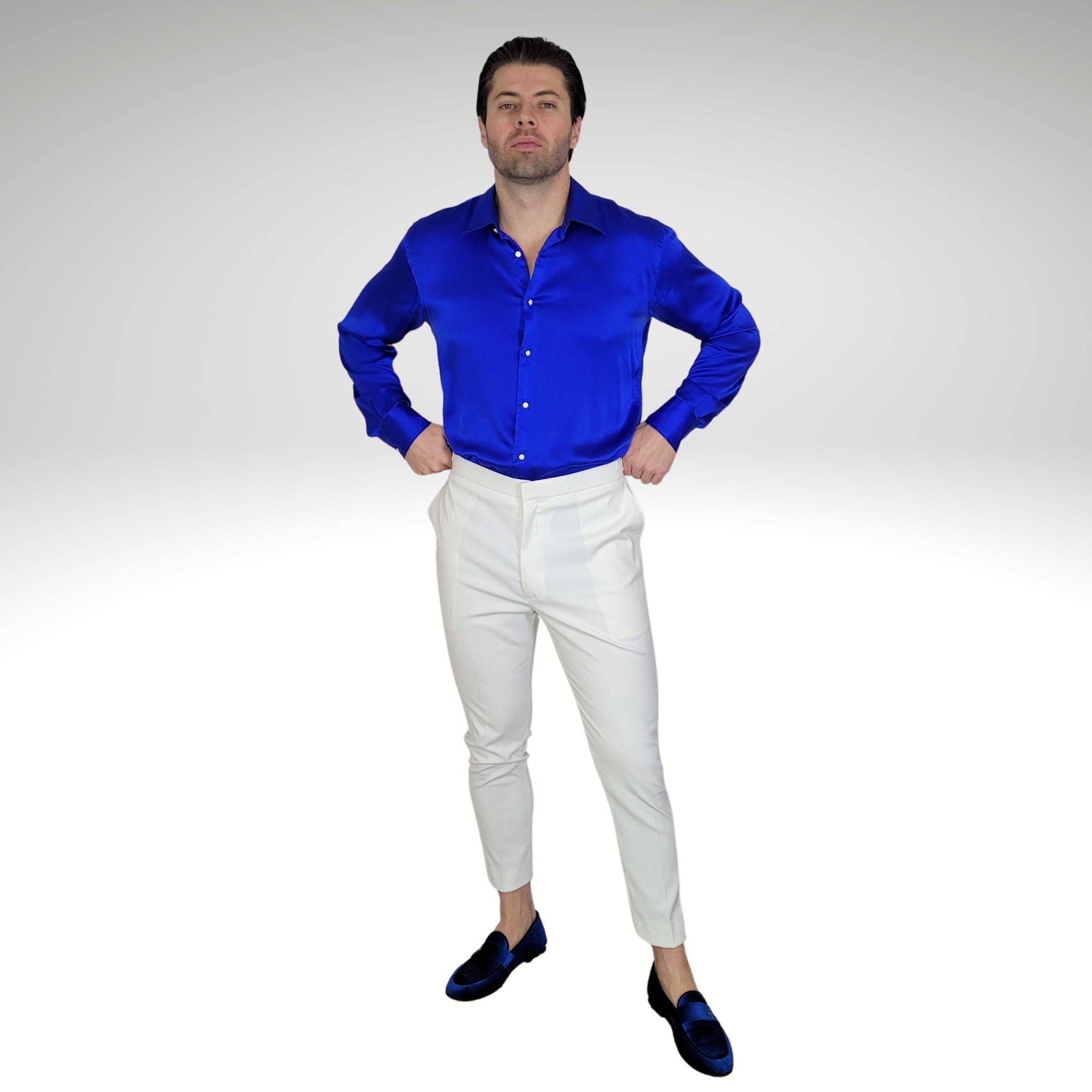 6. High Waisted Suit Pants With a Silk Shirt
High waisted (high rise) pants and trousers were the standard type of men's pant during the era ranging from around the 1920s to 1950s. Although never completely went out of style, high waisted mens pant are once again becoming more commonplace in modern fashion. One of the best ways to make an outfit around a silk shirt, is by pairing it with some nice high rise pants and some classy shoes.
High rise pants compliment the shape of your body and will make your legs seem longer and leaner. Pair these pants with a tucked silk button down shirt, which helps to compliment the shape of your torso, and you have a deadly combination.
High waisted pants come be found in virtually any color, so finding a pair to compliment your silk button down won't be too difficult.
How to Wear a Silk Button Down Shirt FAQ
Can I wear silk shirt with jeans?
Black and white jeans are a great item to match with silk shirts. Wearing an untucked silk shirt with a pair of skinny black or white jeans and some loafers, Chelsea boots, or low cut shoes is a great look. Blue jeans are not a great item to pair with silk shirts.
How do you tuck in a silk shirt?
If your silk shirt is bunched up around your belt line, then it is an indication that you shirt is too big. You should be able to raise your hands to the sky while your silk shirt stays tucked in, without having it come untucked from the belt line.
How do you wear a silk button up shirt?
Silk button up shirts are versatile and can be worn with a number of different outfit arrangements. Silk button ups can be worn both tucked and untucked depending on what type of outfit you pair it with. Common outfit pairings are with a suit, with a blazer, with high waisted suit pants, with black jeans, and with fitted shorts for vacation.