Blue silk shirts are vibrant, bright, versatile, and eye-catching. Blue silk shirts can be paired with dark suits such as black and navy blue, white jeans, black jeans, dark blazers, and more. They can be worn tucked in for more formal engagements, and they can also be styled to be more casual and untucked.
This is How to Style a Blue Silk Shirt.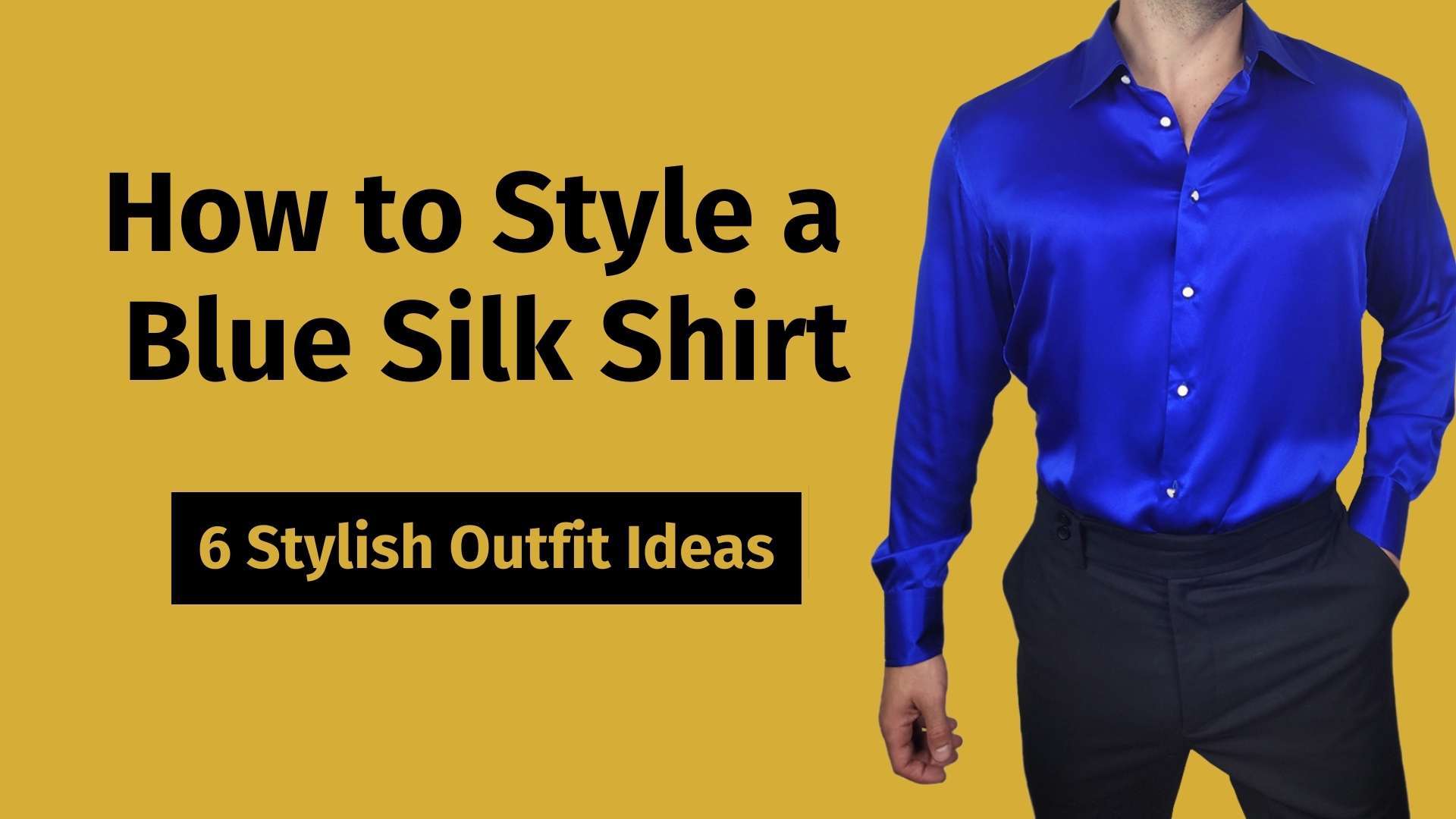 In this article we give you 6 great ideas that you can try out when creating outfits around a blue silk shirt.
Contents: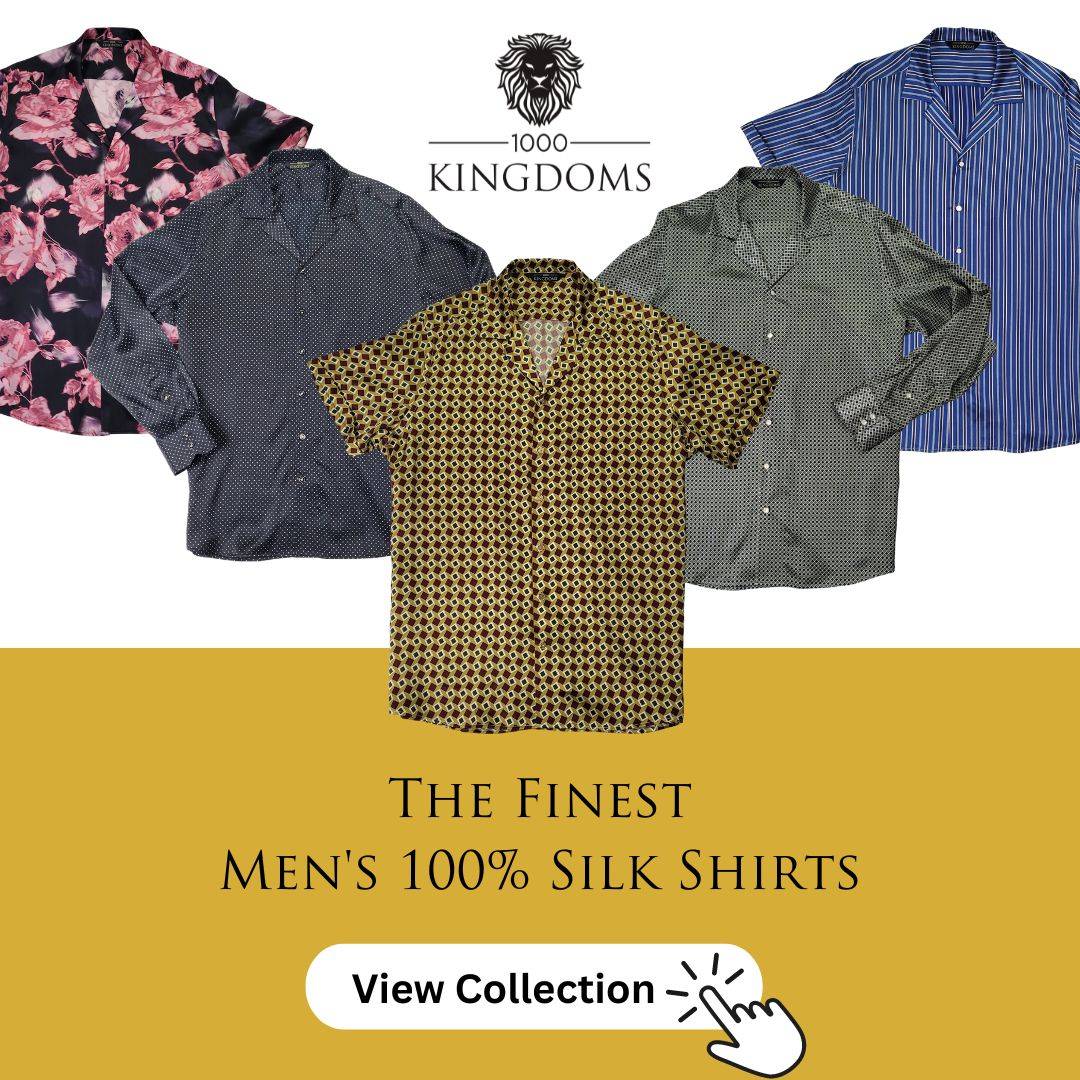 How to Style a Blue Silk Shirt
Use the 6 outfit concepts below as inspiration and style ideas for dressing up your blue silk shirt. Blue silk shirts are fun to wear, soft to the touch, as well as extremely eye catching.
If you are looking to buy, take a look at our amazing blue long sleeve 100% silk dress shirts for men.

In order to look good in your silk shirt you need to first ensure that the shirt is clean and pressed. If your silk shirt is dirty or has wrinkles in it, you risk damaging the strength of the outfit. To stop this from happening and to always look your best, please read our guides on:

1. Navy Blue Suit and Blue Silk Shirt
Pairing a navy blue suit with a bright blue silk shirt and black shoes is a clean and appealing outfit that can be worn in a variety of different settings. Most men have a navy blue suit in their wardrobe, so creating this pairing should be quick and easy.
Navy blue suits also look great when paired with black silk shirts. Take a look at our outfit ideas for black silk shirts.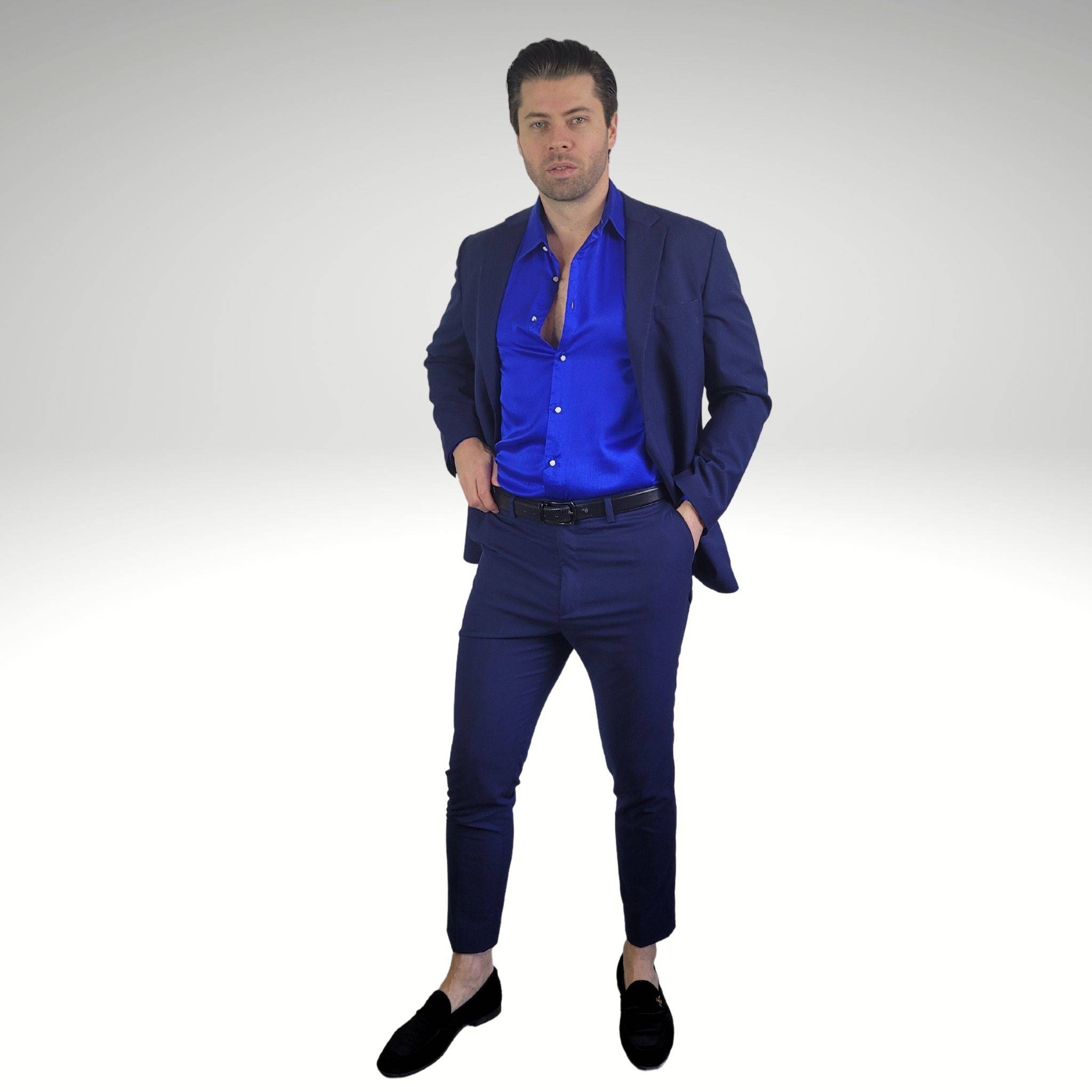 2. Black Suit and Blue Silk Shirt
Black and blue go together like thunder and lightning, which is why pairing a blue silk shirt with a standard black suit is an easy choice. Again, most men own a black suit, and end up looking just like everyone else wearing that same black suit. Change it up, pair your black suit with this awesome silk shirt, elevate your game, and stand out from the crowd.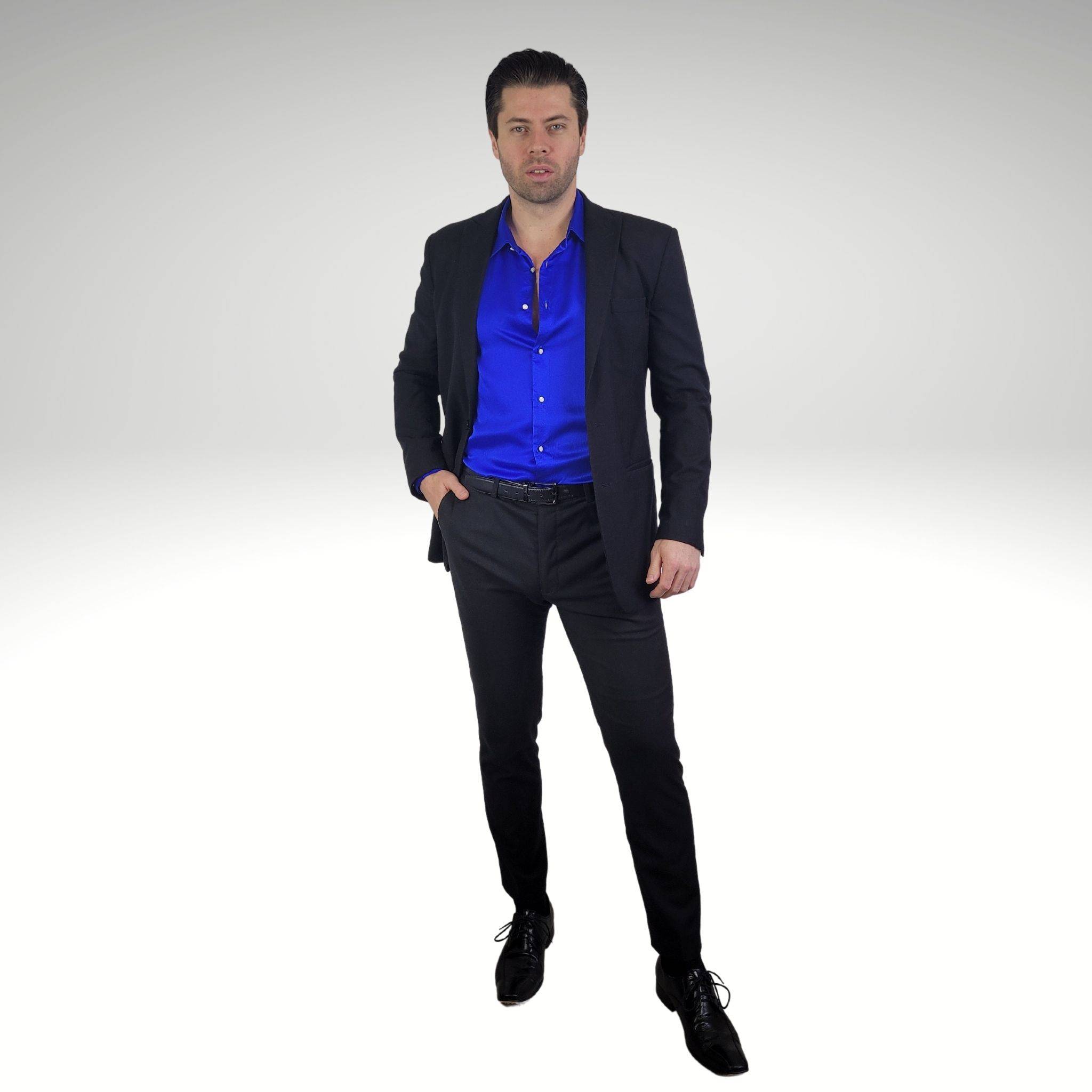 3. White Jeans and Blue Silk Shirt
White is a great color for clothes because it goes with almost anything and is easy to match. White clothes are also awesome because it gives you that super fresh and clean vibe, making you look like you're wearing a brand new outfit every time. This outfit pairing is light, fun, clean, modern, and stylish. Wear this outfit out to the club, on vacation, to dinner, or just when strolling around town looking to get some attention.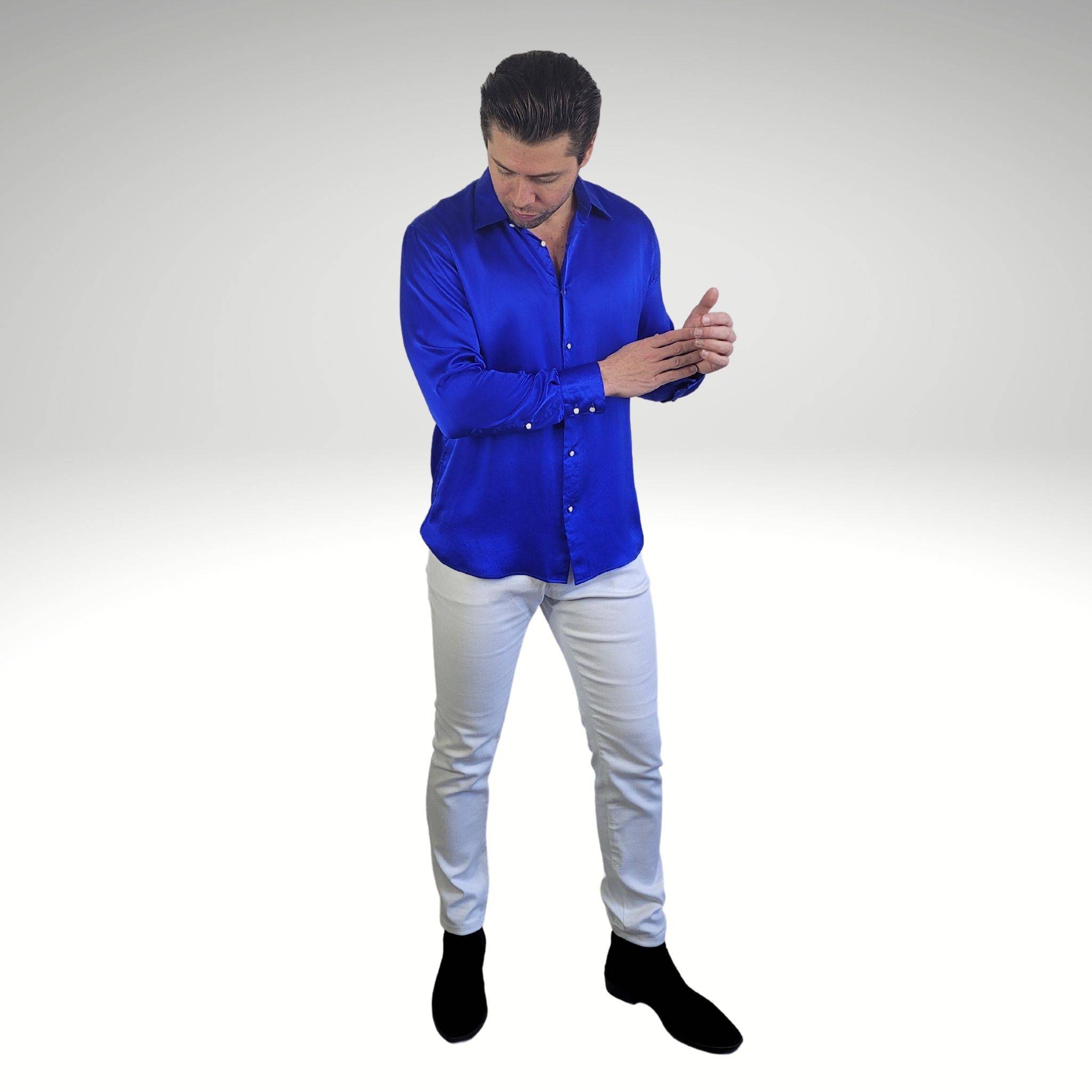 4. Shorts and a Blue Silk Shirt
Blue silk always makes me think of clear water, sandy beaches, and tropical destinations, which is why a pair of white holiday shorts pairs perfectly with a blue silk shirt. This is a relaxing summer look that can be worn in tropical beach destinations all over the world.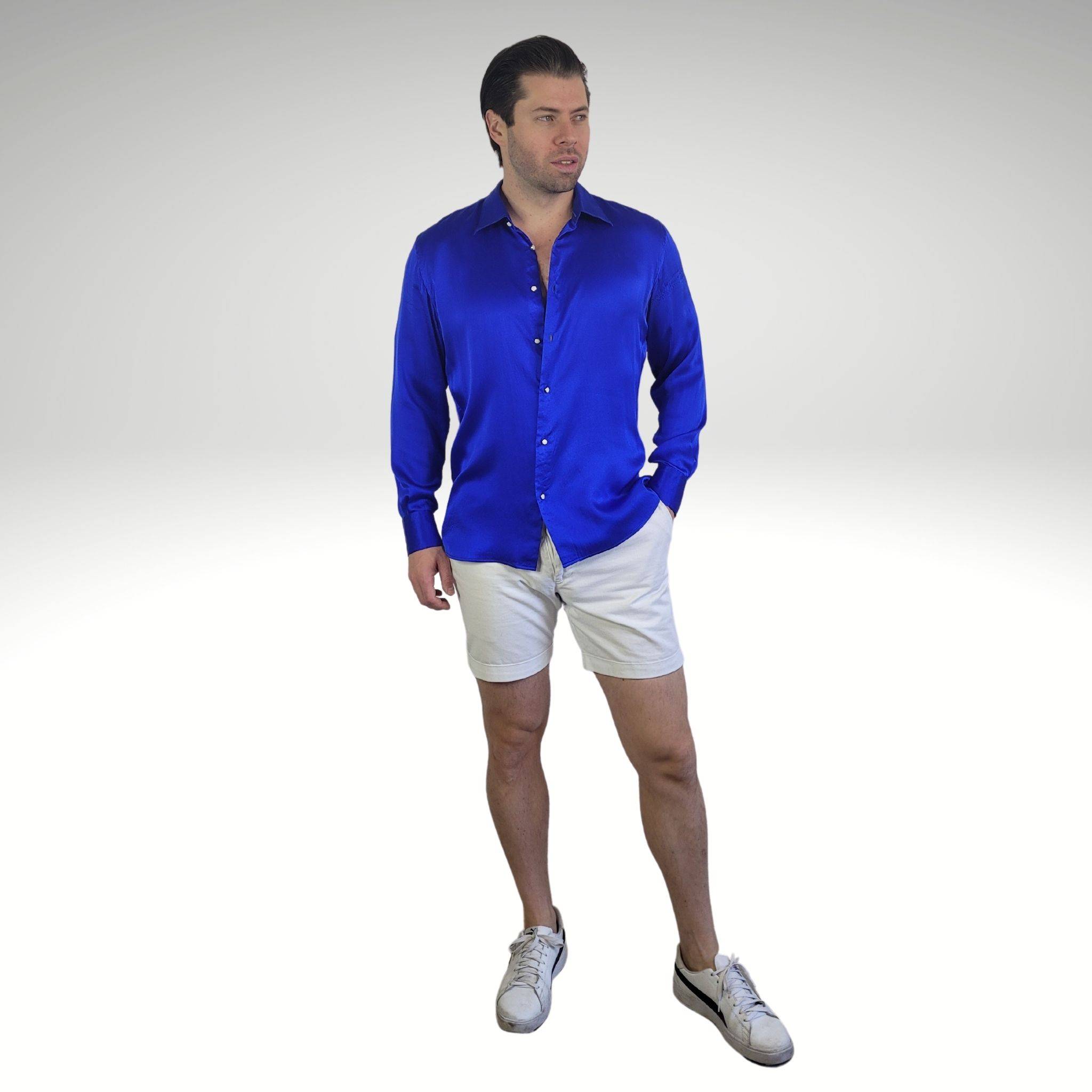 5. Black Jeans With a Blue Silk Shirt
This outfit is perfect outfit to wear for lunches, dates, informal meetings, or when going out for some drinks. It is not quite casual, yet not quite formal either. It is just a clean, modern, and comfortable look that you can wear almost anywhere. This outfit is our blue silk shirt paired with skinny black jeans and black suede Chelsea boots.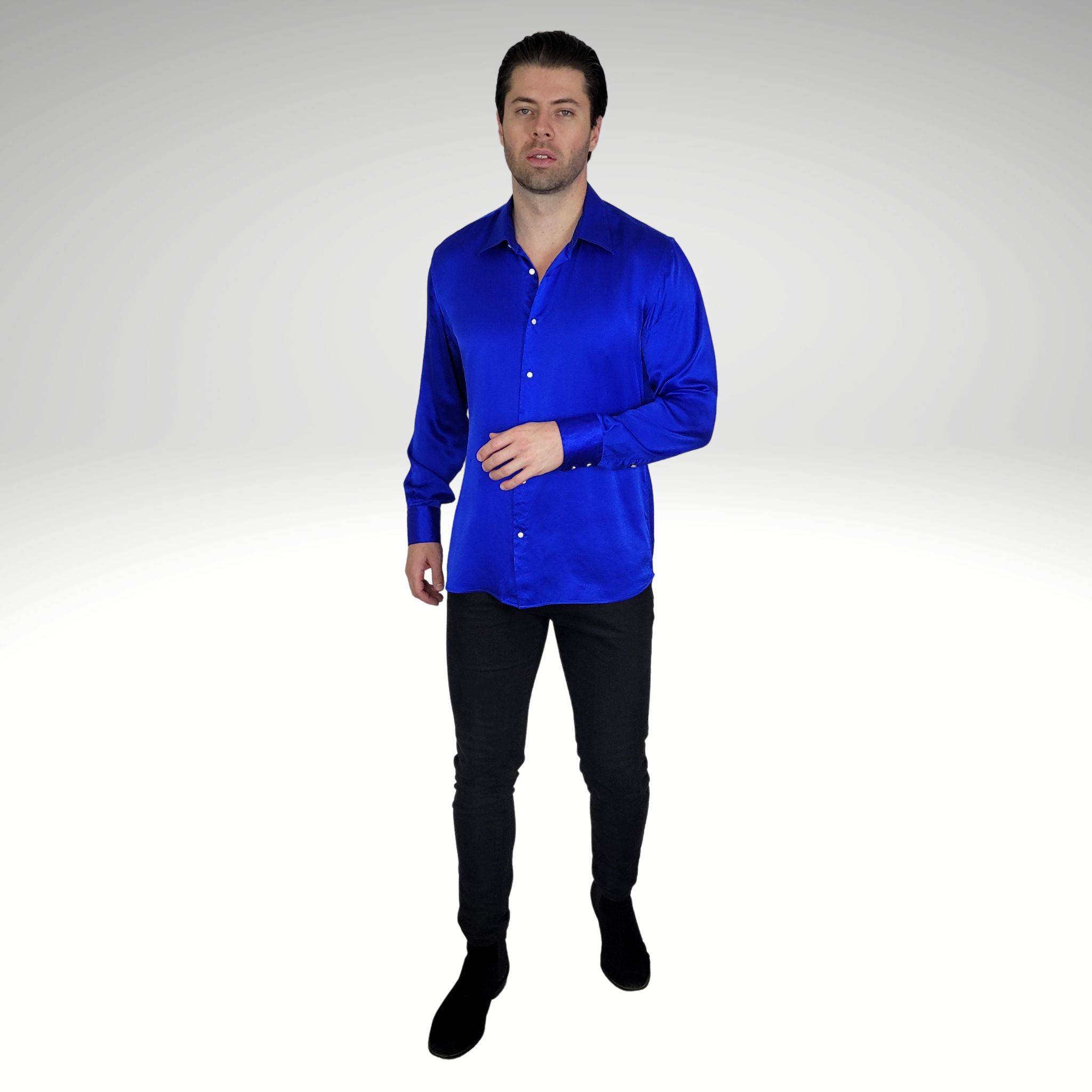 6. White High Waisted Pants and Blue Silk Shirt
High waisted (high rise) pants are seldom seen in popular modern fashion, which is a shame. High rise pants were extremely popular during the 1930s to 1950s and made everyone look a whole lot more sophisticated. High rise pants also make your legs seem longer and your body seem leaner, which is always a good thing.
This outfit is a great one. Our blue silk shirt, white high rise pants, and blue velvet loafers. This is the type of outfit you'd like to wear on New Years Eve, or on your trip to Las Vegas, or if you just broke up with your girlfriend and you're looking to flex.